Ayers rock closed to climbers
Just a disgusting Leftist stunt. Done in the name of the Aborigines, not by them. A great tourist activity closed down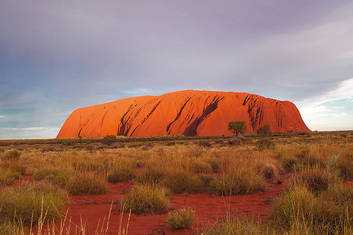 Why the closure of the Uluru climb is reason to celebrate
Expect one heck of a celebration on October 26, 2019. On that date, the Uluru climb will close for good. It will be a joyous day for the Anangu people, who have long asked visitors not to climb this sacred site, but that is not the only reason to celebrate.
The closure of the Uluru climb tells us a lot about how tourism in the Red Centre has changed. A visit to Uluru is about more than sightseeing; it is now considered one of Australia's most significant cultural destinations, a fact recognised by UNESCO way back in 1994. That was the year that the park received a World Heritage listing for its cultural landscape, having already been inscribed for its natural values back in 1987.
These days, visitors can enjoy a whole host of experiences from sunrise to sunset and Indigenous-focused activities allowing for a deeper connection with the ancient culture and landscape. (recommended read: How to experience Indigenous culture in Uluru). As the range of activities has grown, interest in climbing the rock has fallen. Around 300,000 people visit Uluru annually; in 2015, only 16 per cent of them climbed Uluru. That is a big change from the 1990s, when 75 per cent of visitors tackled the climb.
There have long been plenty of reasons not to climb Uluru. There is the erosion caused by the passage of thousands of feet, which has left permanent scars. Climbers leave behind other impacts, too. With no toilet facilities on top of Uluru and no soil to dig a hole, tourists caught short while climbing have only one option. When it rains, the evaporated waste is washed off the rock and pollutes surrounding waterholes, which the area's birds and native animals depend upon for survival.
Climbers also endanger one of the area's rarest species, shield or tadpole shrimp which – incredibly – live on Uluru itself. Their eggs are adapted to survive long periods of drought and are hatched by rainfall. The fast-growing shrimp quickly lay more eggs; when the water dries up, these lie dormant until the next rain. However, with climbers unwittingly crushing the tiny eggs underfoot, the shrimp are now on the verge of extinction.
The most important reason not to climb Uluru, however, is that it is a sacred site for the Anangu, its significance dating back to the creation time. Anangu believe that during the time when the world was being formed, the Uluru climb was the traditional route taken by Mala men when they arrived at Uluru.
Climbing the rock is also dangerous – which is why the chain was installed in 1966, after two deaths two years earlier. Even with additional safety measures – in recent years, authorities closed the climb when conditions were particularly hot, windy, wet or cloudy – deaths and injuries have continued.
Thirty six people have died climbing Uluru since 1950, the last as recently as April 2010. Between 2002 and 2009, no fewer than 74 rescues involved medical attention. The most common issues included heart attacks, head injuries from falls, panic attacks or fainting.
Back in 2010, the Uluru-Kata Tjuta Plan of Management confirmed that the Board would look at closing the climb when one of three goals was met: that fewer than 20 per cent of visitors were climbing the rock; that an adequate number of new visitor experiences was established; and that cultural and natural experiences were the key reason why travellers were visiting the park. With all three conditions now being fulfilled – visitors can now choose from more than 101 different tours and experiences, for instance – the time to close the climb has come.
The fate of the chain itself has not yet been decided. Investigations are underway to decide how it might be removed, and whether the process might damage the rock. One thing, however will not change. A number of memorial plaques on Uluru itself commemorate climbers who died there; these will stay, out of respect for the families of the deceased.
The dramatic decrease in the number of visitors climbing Uluru shows that Indigenous Australians are not the only ones who see Uluru and its surrounds as a special place. There have always been those, Australian and International visitors alike, who felt the power of this landscape. As far back as 1942, author and art dealer Frank Clune suggested, "As Fujiyama is to Japan, so should Ayers Rock be to Australia, a sacred mountain and place of pilgrimage in the heart of our continent."
The closure of the climb suggests we are closer than ever before to fulfilling that vision. The date chosen for the event, October 26, is a significant one for the Anangu: it is the anniversary of the day in in 1985 when, during a ceremony at the base of Uluru, the Governor-General, Sir Ninian Stephen, handed the title deeds to the Uluru-Kata Tjuta National Park to the Traditional Owners. Truly a day worth celebrating.
SOURCE
Smoking: The government nannies lose one
It's a very strong addiction so that outcome is no surprise. The only reasonable role for the govermnment is to ban smoking in public places -- to protect non-smokers from having the foul habit imposed on them
Australians are smoking just as much today as they were three years ago – even with plain packaging, e-cigarettes and the world's highest priced packets.
Australia's falling behind the rest of the world, according to the Australian Tobacco Harm Reduction Association (ATHRA), despite numerous tax raising and deterrence initiatives.
Data shows that between 2013-2016 Australia's annual smoking decline rate has stalled at 0.2 per cent in comparison to a 3 per cent decline in New Zealand, 4 per cent in Canada, 5 per cent in England and a huge 12 per cent in Iceland.
These nations have one thing in common – the legalisation of smoking alternatives such as vaping and heat-not-burn products.
Smoking nicotine is hard to quit and many people enjoy the motion so often seek alternatives such as vaporisers.
The Australian National Drug Strategy Household Survey indicated around 70 per cent said they wanted to quit but despite repeat attempts, are not able to.
ATHRA director Dr Joe Kosterich told news.com.au: 'If we look at other jurisdictions, they've pretty much done similar things to what we've done; similar increase in taxation, banning smoking in public places, smoking health education.
'All of these things are really important moves but you then reach a point where you're not going any further.'
Only last month the New South Wales Parliament passed the Smoke-free Environment Amendment Bill 2018 to join forces with Queensland, Victoria, Tasmania and the ACT to ban vaping in the same places that cigarettes are banned such as parks, sports grounds and outdoor dining areas.
The amendment came into motion despite international evidence that e-cigarettes save lives.
Nicotine liquid once heated and vaporised into in an e-cigarette delivers inhalable nicotine vapor whilst failing to produce carbon monoxide, tar and most cancer-causing chemicals found in combustible cigarettes.
This liquid is illegal in Australia and its ban is upheld by the Therapeutic Goods Administration.
ATHRA Chairman and professor, Colin Mendelsohn said: 'Most of the harm from combustible tobacco is caused by the 7000 chemicals produced by the burning process and these are mostly absent from vapor,' 'It is unethical and unscientific to ban a much safer product that could help many thousands of smokers to quit a deadly addiction.'
Australian Medical Association (AMA) President Dr Tony Bartone disagrees with the compelling research telling 3AW that there was 'still a lot of work to be done on whether they [e-cigarettes] really do help people getting off smoking,'
'A lot of the evidence coming through now is showing that actually all it does it defer or delay the decision to actually come off cigarettes, and a lot of people go back to cigarettes while coming down to it.'
Professor Mendelsohn said: 'Banning wider access to e-cigarettes on the basis of unproven, potential risks to adolescents would prevent access to life saving quitting aid for millions of smokers,'
'A better solution would be to employ strategies to minimise youth access and make vaping available for adult smokers who are otherwise unable to quit smoking with conventional therapies.'
New Zealand Associate Health Minister Nicky Wagner has suggested 'there's a general consensus that vaping is much less harmful than smoking.'
SOURCE
Vile trolling, disgusting brutality and now 258,000 fake breath tests: As Victoria's cops are busted in ANOTHER scandal people ask, who polices the police?
After allegations of brutality and the sacking of a top officer earlier this year, Victoria Police has been rocked by revelations more than 258,000 breath tests were faked.
An external investigator will be brought in to examine the falsified tests, in which officers blew into RBT straws themselves or placed fingers over the holes.
The fake tests were discovered just weeks after the force was hit with allegations of excessive violence, with the beating of a disability pensioner caught on camera.
The incident involving six officers allegedly beating the mental health patient with batons, verbally abusing and pepper spraying him was caught on camera. Police were referred to oversight body Independent Broad-based Anti-Corruption Commission (IBAC) over the incident.
The arrest of a Sudanese-born Melbourne man who allegedly robbed and trashed a chemist in 2016 was also reported to the IBAC.
Footage showed the man being punched 11 times and hit with a baton before one of the officers stomped on his back in a two-and-a-half minute ordeal.
That incident followed a complaint by Jia Meeks, who was seen on CCTV been thrown into a cell door at Bendigo Police Station.
Mr Meeks, who was arrested for allegedly swearing at police and acting aggressively, was left bleeding from facial injuries and suffering a bruised wrist after the alleged incident.
The allegations of brutality followed the resignation of Assistant Commissioner Brett Guerin over a series of offensive online posts made under a pseudonym.
Mr Guerin, was was the head of Victoria Police's ethical standards body, quit the force in February after being referred to the anti-corruption commission.
Using the alias 'Vernon Demerest', Mr Guerin made a series of racist comments on Youtube.
'The jigaboo runs riot and out of control. The 'boo needs the lash,' read one of the vile comments.
'Wonderful to see greasy, diving, cheating dagoes get their just reward. Bitter, lingering defeat,' said another posted on a soccer video.
The comments were exposed a week after he publicly apologised last week for making graphic references to former police commissioner Christine Nixon.
In March the IBAC delivered a damning report accusing the force of failing to investigate dangerous incidents.
The IBAC itself has been criticised for its handling of complaints about Victoria Police.
Lawyers told a parliamentary inquiry in February they do not recommend complaining to IBAC, as more than 90 per cent end up handed back to police to investigate.
Victoria Police is now in discussions with IBAC about the roadside breath test revelations, which occurred over five years.
'The investigation, which analysed over five years of data, 1500 preliminary breath test devices and more than 17.7 million tests, disappointingly found 258,463 PBTs or 1.5 per cent of all tests had been falsified,' Assistant Commissioner Russell Barrett said on Wednesday.
'I had not heard of our members engaging in such a practice, we let ourselves down, we've let the community down. It stops now.'
'There could be a number of reasons but the main rationale I believe is to hide or highlight productivity. Whatever reason our workforce may come up with, it isn't acceptable.'
SOURCE
Being critical of inconsiderate cyclists is "hate speech"?
A cycling boss has been publicly ridiculed after claiming some of the 100,000 furious Australians calling for a single-lane bike road law were fake 'bots'.
Anne Savage, CEO of Bicycle Queensland, claimed some of the 101,700 campaigners demanding cyclists are made to ride single file on Australian roads are not real people.
Drivers For Registration of Cyclists launched the Change.org petition to protest the current law which allows cyclists to ride two abreast while on the roads, as long as they are no further than 1.5m apart.
The petition, titled 'Compulsory Single File for Cyclists', says cyclists are presenting safety hazards by riding two or more abreast and flowing into the traffic lanes.
Ms Savage said she had evidence that 'the majority of names on that petition are false names',The Courier Mail reported. Many of the names - now exceeding 101,000 - were created by electronic 'bots', she said.
'We don't expect the government or anyone else to take this petition seriously. It's disappointing to see hate speech on social media taken this far,' she said.
'We would like to see this person pursued for hate speech and vilification on social media with content that is graphic and deeply hurtful to all in the community.'
Ms Savage has so far not provided any evidence relating to her assertion that many of the names were created by electronic 'bots'.
A spokesman for Change.org said all of the signatures were real. 'Our team puts significant effort into ensuring the legitimacy of signatures on Change.org.,' he said. 'Our spam systems automatically detect patterns, such as multiple signatures coming in from the same IP address and any signatures that prove to be fake are removed between 28-48 hours.'
At 9.30am on Thursday the petition had 101,700 signatures and said it was aiming to reach 150,000.
SOURCE
Crucial progress on adoption
When I started researching the nation's child protection crisis a decade ago, there were approximately 35,000 children living in out of home care in Australia, and only 35 of these children where adopted from care in that year.
In 2016, with over 46,000 children in care nationally, only 70 children were adopted — with all but 3 of these adoptions occurring in NSW.
This means — as my book showed — that tens-of-thousands of children are continuing to spend the majority of their childhoods in highly unstable care without finding the permanent homes that all children need to thrive.
However, the good news is that in 2017, adoptions from care in NSW more than doubled to 127.
This is slow but significant progress. The credit is due to the nation-leading child protection reforms implemented in NSW since the election of the O'Farrell government in 2011. And those reforms reached a milestone this week.
Adopt Change has been appointed to deliver a new program — 'My Forever Family' — designed to halve the time children spend in care before finding a permanent home through either successful restoration with parents, or through guardianship and adoption.
Predictably, critics have again zeroed in on the taboo subject of adoption — and falsely claimed it is being used as a quick fix to solve the problem of rising numbers in care in NSW.
But as my recent research report explained, the NSW reforms are investing heavily in targeted early intervention and restoration services designed to ensure as many children as possible can stay home safely and be reunited safely with their parents.
This means adoptions will only occur in NSW as the last resort to achieve permanency for children after the best efforts to assist struggling parents have failed.
By implementing a two year deadline (a long time in child's life) within which permanency must be achieved, the NSW reforms have struck the right balance between attempting to keep families together and protecting children's vital need for safe and stable homes.
However, what NSW has also done is something I and advocates of the greater use of adoption have long argued for.
This is to swing the pendulum of the child protection system back from the ideologically-driven pursuit of family preservation at almost all costs — regardless of how long, unstable, and ultimately damaging a child's time in care ends up being — and instead ensure more children find permanent homes via adoption.
It's gratifying that the NSW Government has heeded this message. The next step is to ensure the 'NSW model' is emulated in all states and territories in children's best interests.
SOURCE
Posted by John J. Ray (M.A.; Ph.D.).
For a daily critique of Leftist activities, see DISSECTING LEFTISM. To keep up with attacks on free speech see Tongue Tied. Also, don't forget your daily roundup of pro-environment but anti-Greenie news and commentary at GREENIE WATCH . Email me here