Week-end Wrap – Political Economy – February 9, 2019
by Tony Wikrent
Economics Action Group, North Carolina Democratic Party Progressive Caucus
Strategic Political Economy
Altruistic food sharing behavior by human infants after a hunger manipulation
[Science, via Naked Capitalism 2-5-20]
From the abstract: "In a nonverbal test, 19-month-old human infants repeatedly and spontaneously transferred high-value, nutritious natural food to a stranger (Experiment 1) and more critically, did so after an experimental manipulation that imposed a feeding delay (Experiment 2), which increased their own motivation to eat the food. Social experience variables moderated the expression of this infant altruistic behavior, suggesting malleability." dk asks: "But were the test subjects the babies of elites? At 19 months, some patterns may have already been acquired…"
The Carnage of Establishment Neoliberal Economics
WEALTH INEQUALITY: The richest 1% controls more wealth now than at any time in more than 50 years
[Twitter and Yourtube below, via Naked Capitalism 2-2-20]
WEALTH INEQUALITY: The richest 1% controls more wealth now than at any time in more than 50 years. But what does wealth inequality really look like?
turned America's economic pie into a real one and asked people a simple question: Who gets what?
Higher social class predicts increased unethical behavior
[PNAS, via Naked Capitalism 2-4-20]
Seven studies using experimental and naturalistic methods reveal that upper-class individuals behave more unethically than lower-class individuals. In studies 1 and 2, upper-class individuals were more likely to break the law while driving, relative to lower-class individuals. In follow-up laboratory studies, upper-class individuals were more likely to exhibit unethical decision-making tendencies (study 3), take valued goods from others (study 4), lie in a negotiation (study 5), cheat to increase their chances of winning a prize (study 6), and endorse unethical behavior at work (study 7) than were lower-class individuals. Mediator and moderator data demonstrated that upper-class individuals' unethical tendencies are accounted for, in part, by their more favorable attitudes toward greed.

The Biggest Lie in Personal Finance: Why Cutting Spending Isn't the Key to Financial Independence
Nick Maggiulli, February 4, 2020 [ofdollarsanddata.com, via The Big Picture 2-5-20]
... if you look at the percentage of after-tax income that the poorest 20% of U.S. households spend on Food, Housing, Healthcare, and Transportation, it becomes quite clear that low income is the problem here: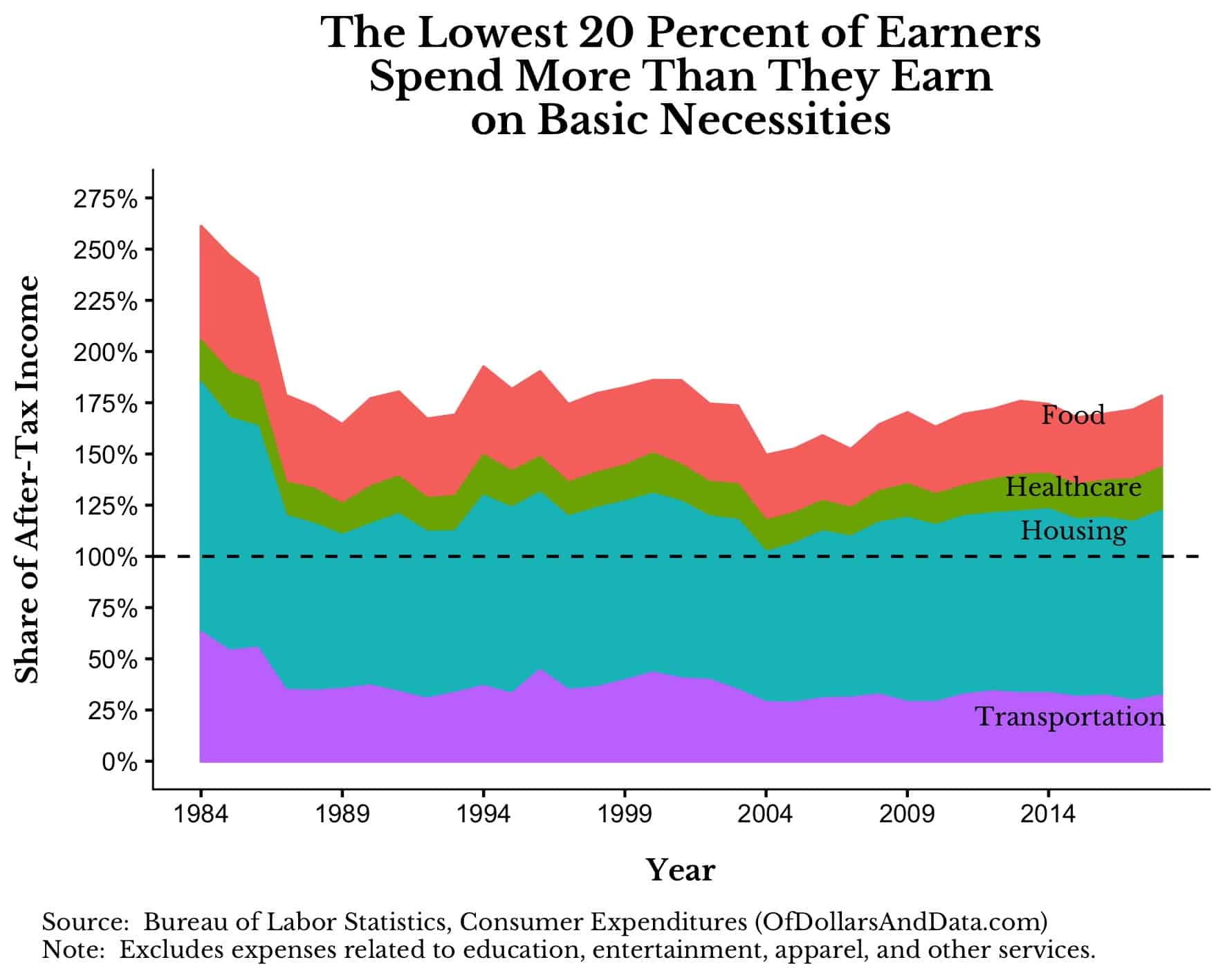 ....the next 20% of U.S. households aren't that much better off than the bottom 20%. For example, even though the next 20% of U.S. households has an annual after-tax income ~3x higher than the lowest 20% (at $31,200), they still spend most of their income on the necessities: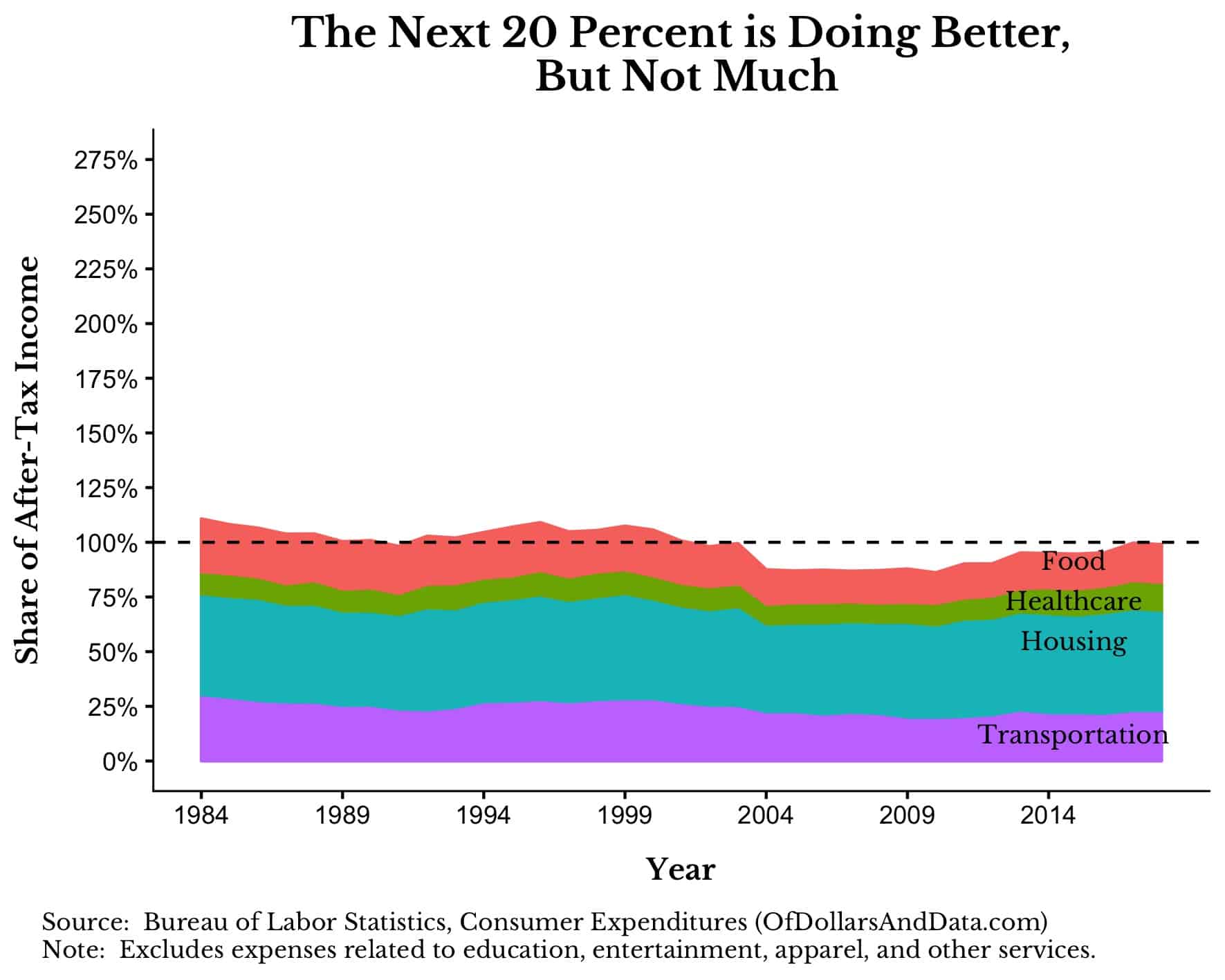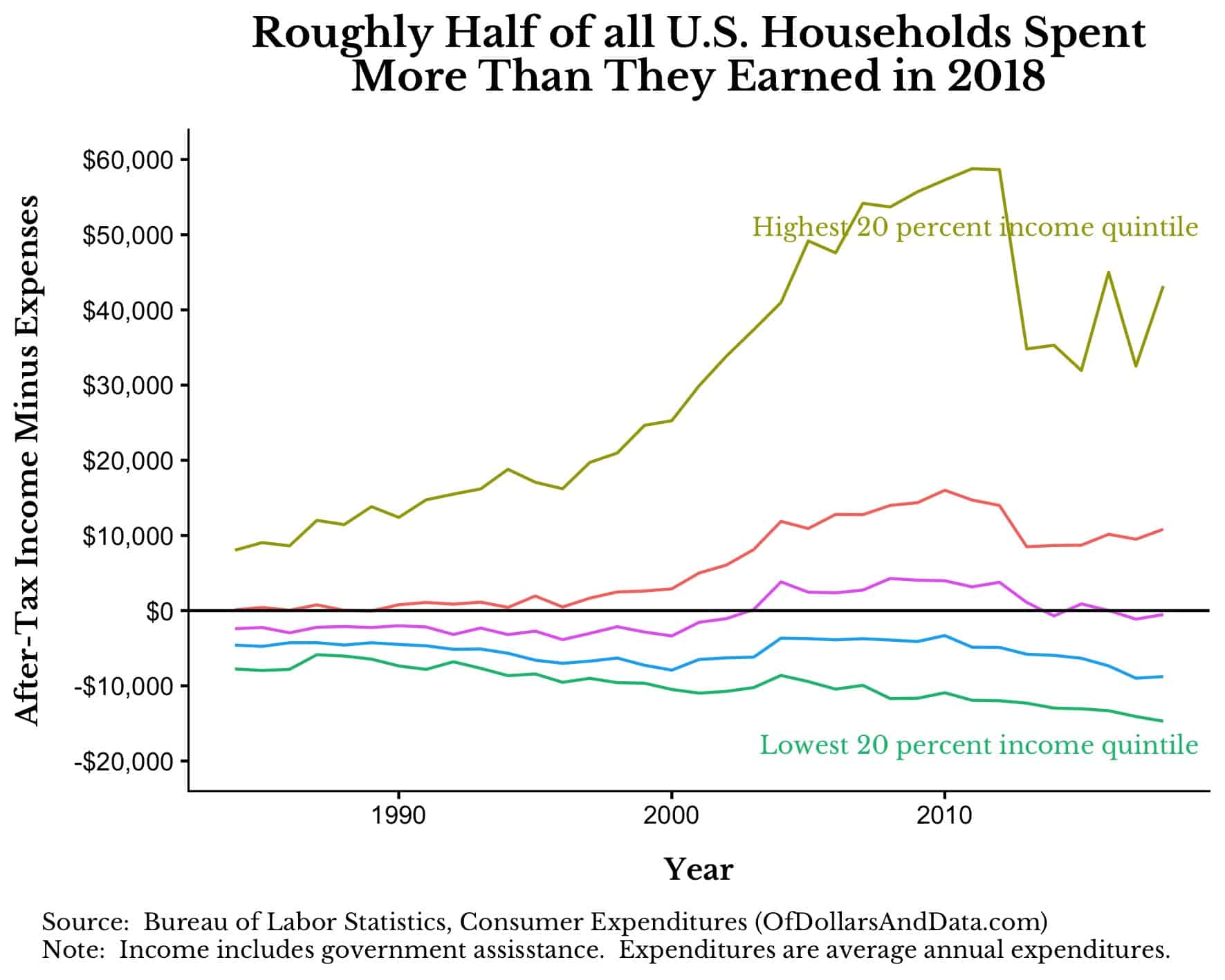 ....This is an unfortunate reality, but one that more clearly demonstrates why so many U.S. households find it difficult to save money. They end up spending most of their pay on just the basics!
The Verdict Is In: Farm Bankruptcies Up in 2019
[Farm Bureau
, The Big Picture 2-3-20]
New U.S.-Canada-Mexico trade accord fails farmers again
Darvin Bentlage [St. Louis Post Dispatch 2-6-20]
The U.S. Senate and House approved the United States-Mexico-Canada Agreement, effectively replacing the North American Free Trade Agreement.
Milk giants Dean Foods and Borden Dairy have declared bankruptcy. Wisconsin has lost 818 dairy farms, or 10% of its dairy farms. In the last decade, the state has lost 44% of the farms.
Cattlemen are not faring much better. We have lost a quarter of our American cattle producers since NAFTA was adopted. America's herd has lost almost 7 million cattle, and the country eliminated 25% of livestock auction barns, 48 meatpacking plants and 75% of all cattle feedlots. The U.S. also has a $1.4 billion annual deficit in the trade of cattle and beef with Canada and Mexico.
Beef exports to Canada, the fourth-largest U.S. export market, are down 11.3% this year, while imports of beef from Canada are up 8%. Canada, the No. 1 foreign supplier of beef to the U.S., stands at 27.7% of America's total beef imports.
Mexico is the third-largest foreign supplier of beef to the United States. U.S. beef exports to Mexico are down 3.5% while imports of beef from Mexico are up 14%. Mexico exported 1.3 million feeder cattle to the U.S. — the largest number in 14 years. Mexican feeders sold for $200 less than U.S.-sourced feeders. This is especially important to Missouri cattle producers as Missouri is the No. 2 state for cow/calf production. The profit per pair was $438 in 2015, and this year, profit is projected to drop below $138.
Because the new North American free trade agreement involves the two countries that caused Congress to repeal country-of-origin labeling, American negotiators should have taken the opportunity to raise that subject anew. Mandatory country-of-origin labeling was implemented in 2009 and led to a steady increase in feedlot cattle until its repeal in 2015. The repeal saw a 34% drop in feedlot cattle prices in one year.
Urban Institute: Thirty percent of student debtors are enrolled in Income-driven repayment plans
[Condemned to Debt, via Naked Capitalism 2-4-20]
A recent report from the Urban Institute (authored by Kristin Blagg, Laurie Goodman, and Kelia Washington) noted that 8 million student-loan debtors are in income-driven repayment plans (IDRs). According to this report, that amounts to about 30 percent of all college borrowers.
That's really scary because almost no one among those IDR participants is paying down the principal on his or her debt. Instead, just about all of these 8 million people are making very small monthly payments based on their income--not the amount that they borrowed.
Homeless US student population 'highest in more than a decade'
[BBC, via Naked Capitalism 2-5-20]
Detroit's Land Bank Holds More Trouble for City's Remaining Homeowners
[Real News Network 2-3-20]
What happens to the remaining homeowners, their properties, and their neighborhoods in Detroit after the foreclosure crisis created a glut of abandoned, city-owned houses?
....a lot of property wasn't initially given to the Detroit Land Bank Authority. The authority was revamped after the bankruptcy and a lot of property, we're talking it went from about 1500 to over 90,000 in around 2014, that sort of huge transfer was an effort to consolidate the ownership with the authority because land banks have special powers to clear title, and at the time that's what the city thought was best.
So, as far as what happens with the vacant property, there are a slew of reasons why it could face delays, but what we hear from residents is basically not much. That if they are living next to it, we hear from folks who have boarded up the vacant properties next to them, in part because even if it is boarded up by the city, maybe it isn't reboarded, whether because of the weather, or because of squatters, or someone who is coming in to strip the property. There are a whole bunch of reasons why the boards might come off, and the city might not necessarily reboard it.
Limited Liability Is Causing Unlimited Harm
Katharina Pistor (Professor of Comparative Law at Columbia Law School, is the author of
The Code of Capital: How the Law Creates Wealth and Inequality)
[Project Syndicate, via Naked Capitalism 2-6-20]
The original purpose of limited-liability protection was to encourage investment in – and risk-taking by – corporations, whose resulting innovations would benefit society. Yet by allowing shareholders to profit from the harms caused by corporations, limited liability has evolved into a source of systemic market failure.
Cincinnati students expose how privatization corrupts public universities
David Akadjian [DailyKos 2-7-20]
Restoring balance to the economy
Painters' union calls for consumers to boycott PPG brands including Glidden, Olympic
[Pittsburgh Post-Gazette, via Naked Capitalism 2-2-20]
Video Spotlight: Ellen Brown and Walt McRee discuss a public bank's ability to fund a Green New Deal
[Public Bank Institute 2-6-20]
PBI Chair Ellen Brown and Senior Advisor Walt McRee discuss how public banks and the central bank can fund investments such as those proposed in a Green New Deal without inflating consumer prices.
The Public Banking Solution, 6.19
from
Princeton TV
on
Vimeo
.
Climate and environmental crises
How the Lawyer Who Beat Chevron Lost Everything
[The Intercept, via Naked Capitalism 2-2-20]
The developments that led to Donziger's confinement were, like much of the epic legal battle he's been engaged in for decades, highly unusual. The home confinement is his punishment for refusing a request to hand over his cellphone and computer, something that's been asked of few other attorneys. To Donziger, who had already endured 19 days of depositions and given Chevron large portions of his case file, the request was beyond the pale, and he appealed it on the grounds that it would require him to violate his commitments to his clients. Still, Donziger said he'd turn over the devices if he lost the appeal. But even though the underlying case was civil, the federal court judge who has presided over the litigation between Chevron and Donziger since 2011, Lewis A. Kaplan, drafted criminal contempt charges against him.
In another legal peculiarity, in July, Kaplan appointed a private law firm to prosecute Donziger, after the Southern District of New York declined to do so — a move that is virtually unprecedented. And, as Donziger's lawyer has pointed out, the firm Kaplan chose, Seward & Kissel, likely has ties to Chevron.
Making the case even more extraordinary, Kaplan bypassed the standard random assignment process and handpicked someone he knew well, U.S. District Judge Loretta Preska, to oversee the case being prosecuted by the firm he chose. It was Preska who sentenced Donziger to home detention and ordered the seizure of his passport, even though Donziger had appeared in court on hundreds of previous occasions.
Shale pioneer John Hess says key U.S. fields starting to plateau
[Reuters, via Naked Capitalism 2-5-20]
Climate Change Predictions Have Suddenly Gone Catastrophic. This Is Why
[Vice, via Naked Capitalism 2-8-20]
"Arctic sinkholes open in a flash after permafrost melt"
[
Live Science
, via Naked Capitalism 2-6-20]
"Arctic permafrost can thaw so quickly that it triggers landslides, drowns forests and opens gaping sinkholes. This rapid melt, described in a new study, can dramatically reshape the Arctic landscape in just a few months. Fast-melting permafrost is also more widespread than once thought. About 20% of the Arctic's permafrost — a blend of frozen sand, soil and rocks — also has a high volume of ground ice, making it vulnerable to rapid thawing. When the ice that binds the rocky material melts away, it leaves behind a marshy, eroded land surface known as thermokarst. Previous climate models overlooked this kind of surface in estimating Arctic permafrost loss, researchers reported. That oversight likely skewed predictions of how much sequestered carbon could be released by melting permafrost, and new estimates suggest that permafrost could pump twice as much carbon into the atmosphere as scientists formerly estimated, the study found."
Health Care Crisis
How CVS Became A Health Care Tyrant
Matt Stoller, [BIG, via Naked Capitalism 2-2-20]
Followup to yesterday's NYT story.
In 2018, the Capitol Forum reported how CVS leverages its various lines of business to roll up power. Five weeks before CVS announced it was buying Aetna, its Caremark PBM subsidiary began telling independent pharmacies that their reimbursement rates for key medicines was going to go down.
As an example, "one pharmacy went from earning $41.63 for selling Metronidazole—an antibiotic used to treat bacterial infections—to losing $72.27 per sale of the treatment." Immediately after announcing price cuts, CVS began sending out letters offering to buy independent pharmacies who had just had their revenue slashed. In one solicitation letter, CVS's head of acquisitions wrote that, as a pharmacist himself he knew "what independents are experiencing right now: declining reimbursements, increasing costs, a more complex regulatory environment."
When confronted with it by independent pharmacists in front of Maryland state regulators, CVS lobbyists said the reimbursement cuts were simply the result of a 'computer glitch'.
Information Age Dystopia
Hiding in plain sight: activists don camouflage to beat Met surveillance
[Guardian, via Naked Capitalism 2-2-20]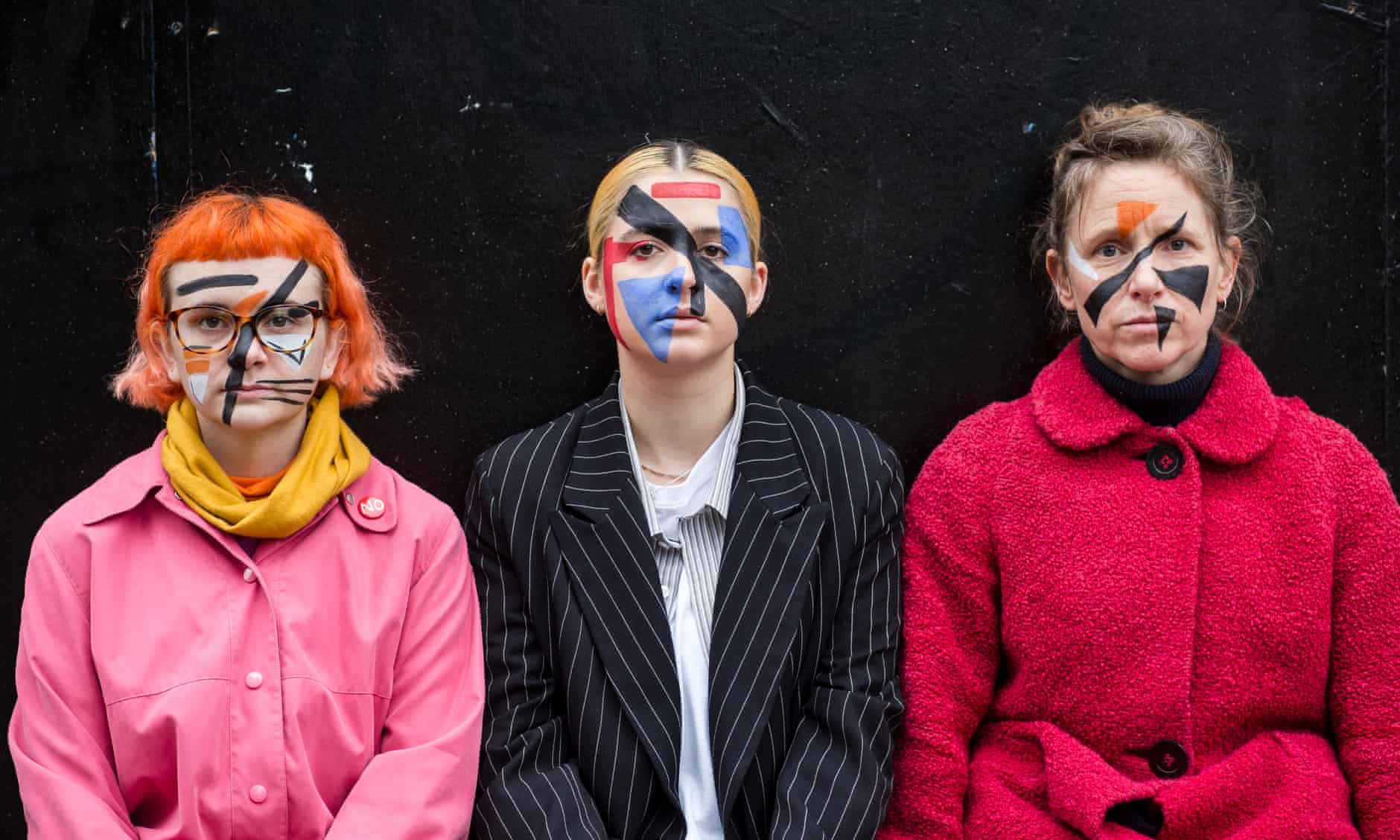 Paper Masks Are Fooling Facial Recognition Software
[Entrepreneur, via Naked Capitalism 2-8-20]
German TV Exposes the Lies That Entrapped Julian Assange
[Consortium News, via Naked Capitalism 2-8-20]
«A murderous system is being created before our very eyes»
[Republik, via Naked Capitalism 2-8-20]
For the first time, the UN Special Rapporteur on Torture, Nils Melzer, speaks in detail about the explosive findings of his investigation into the case of Wikileaks founder Julian Assange....
The case falls into my mandate in three different ways: First, Assange published proof of systematic torture. But instead of those responsible for the torture, it is Assange who is being persecuted. Second, he himself has been ill-treated to the point that he is now exhibiting symptoms of psychological torture. And third, he is to be extradited to a country that holds people like him in prison conditions that Amnesty International has described as torture. In summary: Julian Assange uncovered torture, has been tortured himself and could be tortured to death in the United States. And a case like that isn't supposed to be part of my area of responsibility?
....It quickly became clear to me that something was wrong. That there was a contradiction that made no sense to me with my extensive legal experience: Why would a person be subject to nine years of a preliminary investigation for rape without charges ever having been filed? ...I have never seen a comparable case.
Tesla Remotely Disables Autopilot On Used Model S After It Was Sold
[The Verge, via Naked Capitalism 2-8-20]
Imperiled information: Students find website data leaks pose greater risks than most people realize
[Harvard School of Engineering, via Naked Capitalism 2-5-20]
[I]n less than 10 seconds she produced a dataset with more than 1,000 people who have high net worth, are married, have children, and also have a username or password on a cheating website. Another query pulled up a list of senior-level politicians, revealing the credit scores, phone numbers, and addresses of three U.S. senators, three U.S. representatives, the mayor of Washington, D.C., and a Cabinet member.
[Twitter below, via Naked Capitalism 2-5-20]
I had to get a background check for my job, and it turns out the report is a 300+ page pdf of every single tweet I've ever liked with the work "fuck" in it.
Enjoy your dystopian bs! *waves*
Anatomy of a rental phishing scam
[Jeffrey Ladish, via Naked Capitalism 2-5-20]
Welfare Surveillance System Violates Human Rights, Dutch Court Rules
[Guardian, via Naked Capitalism 2-6-20]
Google Releases a Tool To Spot Faked and Doctored Images
[MIT Technology Review, via Naked Capitalism 2-6-20]
Creating new economic potential - science and technology
The Battery Supply Problems Faced by Electric Air Taxis
[Avionics, via Naked Capitalism 2-5-20]
The limits of high speed rail
[mappingignorance.org 1-22-20, via Naked Capitalism 2-7-20]
On April 3, 2007, the French TGV V150 (150 meters per second) train broke the world rail speed record, reaching 574.8 km/h. The feat required a period of careful technical preparations undertaken by RFF (Network Ferré de France), Alstom and SNCF. The train was heavily instrumented to acquire data on very high speed rail operations:
Disrupting mainstream politics
Bernie Sanders Leads the Popular Vote in Iowa; Wall Street-Friendly Bloomberg Has a Plan
Pam Martens and Russ Martens: February 5, 2020 [Wall Street On Parade]
Bloomberg is a multi-billionaire whose wealth derives from leasing financial data terminals to Wall Street's trading floors around the globe. Bloomberg's police force bloodied, brutalized, pepper-sprayed and engaged in mass arrests of peaceful protesters during the Occupy Wall Street protests in 2012. (See the video below that was submitted in a court case as an indication of what kind of President Bloomberg would make.)
Mike Bloomberg is also the majority owner of Bloomberg News, which announced in November that it would not be allowing investigative reports on Mike Bloomberg or any other Democratic candidate. That policy, however, did not extend to its OpEd columnists. At 6:30 a.m. on Monday, the very day of the Iowa Caucuses, Bloomberg News published an opinion column by Michael R. Strain, the Director of Economic Policy Studies and a resident scholar at the Koch-funded, right wing, climate change skeptic think tank, the American Enterprise Institute (AEI). The bold headline screamed: "Trump Hurts the Economy. Sanders Would Be Worse." The article mapped out a preposterous doomsday scenario of what would happen economically to the U.S. if Sanders were elected, ignoring the legitimate threat of what would happen if Wall Street is not reined in and needs another $29 trillion bailout.
Love the billionaire bucks flooding the 2020 elections? Thank Charles Koch
[Guardian, via Naked Capitalism 2-8-20]
Why Democrats share the blame for the rise of Donald Trump
Robert Reich [Guardian, via Naked Capitalism 2-3-20]
In the fall of 2015, I visited Michigan, Wisconsin, Ohio, Pennsylvania, Kentucky, Missouri and North Carolina, for a research project on the changing nature of work. I spoke with many of the people I had met 20 years before when I was secretary of labor, as well as with some of their grown children.
What I heard surprised me. Twenty years before, many said they'd been working hard and were frustrated they weren't doing better. Now they were angry – angry at their employers, the government, Wall Street. Many had lost jobs, savings, or homes in the Great Recession following the financial crisis of 2008, or knew others who had. Most were back in jobs but the jobs paid no more than they had two decades before, in terms of purchasing power.
I heard the term "rigged system" so often I began asking people what they meant. They spoke about flat wages, shrinking benefits, growing job insecurity. They talked about the bailout of Wall Street, political payoffs, insider deals, soaring CEO pay, and "crony capitalism". These complaints came from people who identified themselves as Republicans, Democrats and independents. A few had joined the Tea Party. A few had briefly been involved in the Occupy movement.
The 2016 rebellion is ongoing
With the 2016 political primaries looming, I asked which candidates they found most attractive. At the time, the leaders of the Democratic party favored Hillary Clinton and Republican leaders favored Jeb Bush. Yet no one I spoke with mentioned Clinton or Bush.
They talked instead about Bernie Sanders and Donald Trump. When I asked why, they said Sanders or Trump would "shake things up" or "make the system work again" or "stop the corruption" or "end the rigging".... it wasn't due to Sanders' magnetism or Trump's likeability. It was a rebellion against the establishment. That rebellion is still going on, although much of the establishment still denies it. They prefer to attribute Trump's rise solely to racism.
The most powerful force in American politics today continues to be anti-establishment fury at a rigged system. There is no longer a left or right. There's no longer a moderate "center". There's either Trump's authoritarian populism or democratic – small "d" – populism.
Charities steered $65M to Trump lawyer Sekulow and family
[AP, via Naked Capitalism 2-2-20]