Week-end Wrap – Political Economy – March 1, 2020
by Tony Wikrent
Economics Action Group, North Carolina Democratic Party Progressive Caucus
Strategic Political Economy
Chile's Struggle to Democratize the State
[NACLA, via Naked Capitalism 2-25-20]
A useful overview of the neoliberal policies enacted by the Pinochet regime three decades ago -- protesters chant, "It's not 30 pesos, it's 30 years!" referring to the transit fare hike that sparked the social uprising in October 2019 and the 30 years of enforced neoliberal economic devolution. Neoliberal policies were written in Pinochet's constitution, which is why Chileans are demanding a new constitution.
General Augusto Pinochet's 1980 Constitution both symbolizes and imposes the authoritarian model at the root of the ongoing mobilization. The Constitution institutionalized the economic and political domination of the dictatorship and enshrined a neoliberal framework that erased the role of the state in social and economic areas. It restricted political participation, gave the Right disproportionate power, and installed a tutelary role for the armed forces....
Pinochet's radical neoliberal transformation privatized the pension system and promoted the development of a private sector in the health and education fields. These privatizations have perpetuated inequality and reinforced extreme social divisions. Moreover, Chile is the only country in the world with almost completely privatized water—Chapter III, Clause 24 of the 1980 Constitution establishes the "right" to private ownership of water.
....A 2019 study by The Lancet showed that a woman in a poor district of Santiago lives some 18 years less than a woman in a rich neighborhood in the same city.
.... popular symbols have changed. In large demonstrations in the past, people carried the banners of their political parties or social organizations. Such banners are gone in the protests today, reflecting the spontaneous nature of the social explosion and its distance from the political parties.
[
I can see these types of protests erupting in USA, as people give up hope that either the Republican Party - taken over by grifter Trump who lied about his intention to implement populist policies - and the Democratic Party, which is fighting desperately to prevent populist policies from being carried into office by Sanders or Warren.
]
Some 70 to 80 percent are in favor of a new Constitution—forged under democracy—to guarantee social rights. Chileans now look forward to the national plebiscite called for April 26 to vote for a path toward a Constitution that will protect the rights to education, health, and decent pensions, among others.
View of the protest of an estimated 1.2 million people in Santiago, October 25, 2019. (Hugo Morales/Wikimedia)

The Carnage of Establishment Neoliberal Economics
Poverty Is All About Personal Stress, Not Laziness
[
Bloomberg
, via The Big Picture 2-25-20]
Economists are starting to accumulate evidence that instead of being indolent layabouts, poor people are harried and frantic. To deal with a world of precarity, where any misstep or piece of bad luck can lead to disastrous consequences, requires a massive amount of cognitive effort. And it's the stress of that constant effort, rather than bad morals or welfare-inspired laziness, that drives many poor people to make subpar decisions....

Economist Sendhil Mullainathan of Harvard University has been at the forefront of the effort to better understand the challenges of poverty. In 2013, along with co-authors Anandi Mani, Eldar Shafir, and Jiaying Zhao, he published a groundbreaking paper entitled "Poverty Impedes Cognitive Function." They found that when low-income shoppers in New Jersey thought about their finances, their cognitive performance went down. But that didn't happen for higher-income subjects. This suggests that stress taxes the mind more than finances. In a second experiment on Indian farmers, they found that cognitive performance is worse before a harvest, when finances are tight.

Mullainathan expanded this result into a general theory of poverty. Scarcity, he believes, begets stress, which leads to bad decisions, which creates even more scarcity. Thus, poor people get trapped in an exhausting but inescapable cycle of precarity.
Flux: Wealth in the United States
Barry Ritholtz, February 26, 2020 [The Big Picture]
Middle Class Now Holds Less Wealth than Top 1 Percent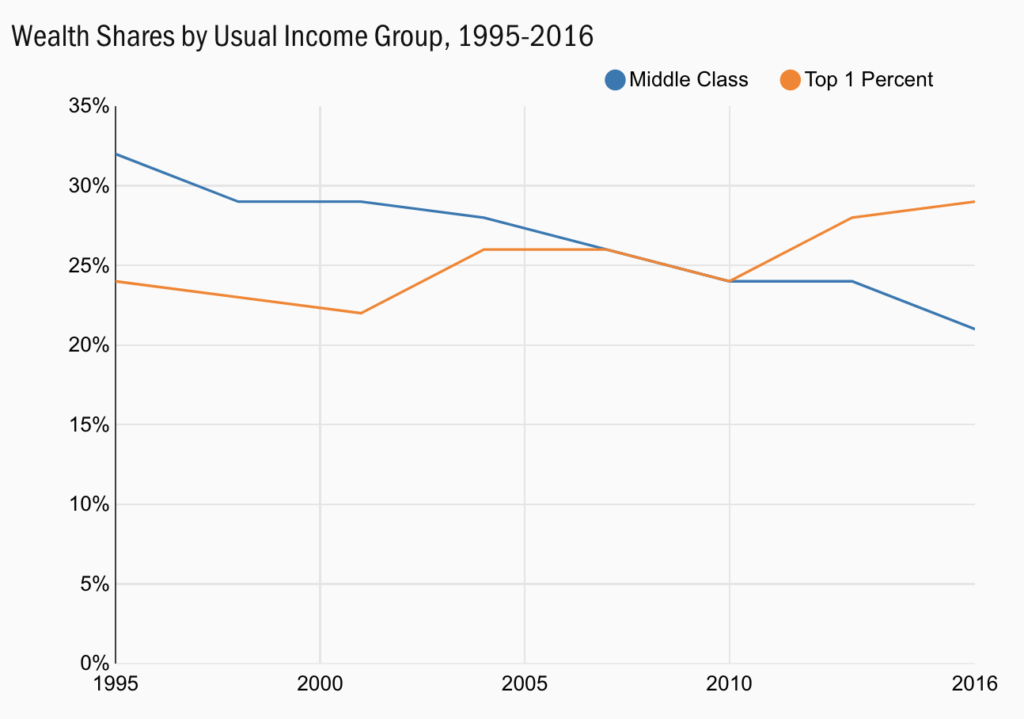 Source: Survey of Consumer Finances and Brookings
[Newsweek, via Avedon's Sideshow 2-28-20]
[Scientific American, via Naked Capitalism 2-26-20]