A Leftist account of Australia's climate policy
They see that the current policy is only very light Green. They deplore that. I praise it. I have deleted some abusive adjectives below
In stark comparison to the wide-ranging plan Obama announced to curb America's carbon pollution, the climate the Abbott government has cultivated around global warming leaves it with very few options.
Clearly, there will be no carbon tax. Axing the tax has - as we all know, know, know - been perhaps the government's proudest achievement. And true to form, after Labor announced a couple of weeks back that they would introduce an emissions trading scheme, Hunt has repeatedly parroted the false declaration that "an emissions trading scheme is just a carbon tax with a different name".
Presumably that means that an ETS - favoured by lefty institutions like the World Bank, International Monetary Fund and at least 40 national governments worldwide - is also off the cards.
Let's face it, this government has always been about Direct Action! Getting in there; planting trees; raising a (green) army! That's the ticket to electoral success and the government shows no indication of admitting one syllable of failure.
But there are other ways - besides great big new taxes on everything - to tackle emissions. In the pensive hours before the major new US policy was detailed, media speculated it would pave the way for a massive escalation in renewables deployment.
On this point too though, the government has been direct with the Australian people about its inaction.
As the Prime Minister, defending the government's tardiness in slashing the Renewable Energy Target, told broadcaster Alan Jones: "What we did recently in the Senate was to reduce, Alan, capital R-E-D-U-C-E, the number of these things [wind turbines] that we are going to get in the future."
"Frankly," Abbott said, "I would have liked to have reduced the number a lot more".
While it "got the best deal [it] could out of the Senate", the government only managed to cause investment in renewables to tank by 90 per cent. What a hash! But the point is that renewables have more or less been ruled out by the Abbott government.
So why not just pump up the Direct Action to give the government a way out of this jam?
Here's the thing; the only way the government could feasibly use Direct Action to cut carbon pollution to the levels that'll be required after the current 2020 commitment period is by dramatically modifying the so-called 'safeguard mechanism' that's built into the scheme.
Under its policy the Abbott government pays polluters to pollute a little less, and the safeguard mechanism was supposed to prevent the polluters that aren't being paid from going silly and increasing their emissions.
Right now, it's more or less lying dormant, which brings us back to that RepuTex analysis and its judgement of the government's climate policy as "untenable" unless the safeguard mechanism is beefed up.
As the analysis notes, "None of Australia's top 20 emitting facilities are currently expected to incur any liability under the scheme, despite almost all being forecast to grow their emissions over the next ten years."
Basically, there's nothing to stop big polluters from polluting more unless there's a serious tightening of the policy, and emissions increases from those vast majority of companies that would have no obligation under Direct Action to cut their carbon are likely to far outweigh the mitigation that the government is using our money to pay for.
But there's hope. "While the scheme is currently a 'toothless tiger', it may readily be characterised as a 'hidden dragon' given the potential scope for a more meaningful compliance market to emerge," the RepuTex analysis said.
Unfortunately for the Abbott government the Labor Opposition, which might ordinarily be quite fairly characterised as a 'toothless tiger', would exploit the hypocrisy the government would need to display to fix the safeguard mechanism in its quest to make climate change a key battleground at the next Federal election.
For the government to make the 'safeguard' mechanism work, it would effectively need to put a cap on carbon in the economy and create a financial disincentive for polluters who exceed their share.
On Hunt's logic, which dismisses anything that caps pollution, that's just another damn carbon tax.
SOURCE
Airline strikes a flop
Public sector strikes at international airports across the nation this morning appear to have had little impact on flight schedules but the Community and Public Sector Union is vowing to continue its fight to bring the government to the negotiating table.
The union staged four hour strikes at Sydney, Melbourne and Brisbane airports this morning "to protest the Abbott Government's attack on [customs and immigration workers'] rights, conditions and take home pay," mostly between 6 and 10 am.
Customs and Immigration said it was "able to maintain our normal robust border security and processing procedures at Sydney, Melbourne and Brisbane airports during the period of protected industrial action," but there are further work stoppages planned to take place in Perth, Adelaide, Cairns, the Gold Coast and Sydney later this evening.
"Public sector workers on our borders undertake important, difficult and sometimes dangerous jobs on behalf of our community - they deserve better," CPSU National Secretary Nadine Flood said.
"Workers are facing the loss of up to $8,000 a year – even more for those in remote areas or with specialised skills - from their take home pay.
"The Abbott Government is insisting the department take an axe to the allowances that make up much of their pay packets which compensate them for weeks away from family at sea, using firearms, meeting high fitness standards, working long hours, unusual shifts and performing dirty and/or dangerous work."
The CPSU said that the after more than a year of negotiations over new enterprise bargaining agreements for public sector workers, the Abbott government and Department of Employment have put forward conditions "worse than any major private sector employer" is offering.
The enterprise agreements governing the public sector expired on June 30 last year but, according to the CPSU, 98.5 per cent of public sector workers are still without new agreements after a year of fruitless negotiations.
Flood said the government's failure to strike a deal, which has already seen extensive industrial action grip at least 16 government agencies, is part of a broader attack on public sector workers.
"The Abbott Government has cut more than 17,000 public sector jobs and is now going after the pay and conditions of those left," she said.
"While this action will impact on the public, the real target is the Abbott Government's unfair and unworkable bargaining policy which stands between these workers and getting a fair deal."
This morning's delays mooted to affect the busy peak hour do not appear to have materialised, though, with a spokesperson for Melbourne airport telling New Matilda that "in terms of our operations, they haven't been affected. There's been no delays".
Sydney also escaped largely unscathed after the Department of Immigration and Border Protection put "carefully planned contingency arrangements in place to protect Australia's borders and ensure priority areas are managed and the impact of protected industrial action is mitigated".
The CPSU strikes also extended to the Department of Agriculture - including quarantine - and the Australian Border Force Marine Unit which staged "in port" bans on loading and pre-departure checks, routines and maintenance activities which will continue into the coming week.
A deal to end the strikes has been difficult for individual departments to secure because the union is unsatisfied with the Department of Employment's Bargaining Policy, which sets out the general parameters within which other departments can negotiate pay and conditions.
"Minister Abetz will no doubt come out with his usual line about excessive pay claims, but I have now said countless times that all these workers expect is to maintain their rights and real wages," Flood said. "The more he says it, the angrier these workers get."
Customs and Immigration declined to comment on the contingency arrangements it put in place for "operational security reasons".
SOURCE
PM announces plan for shipbuilding
Bad news for the taxpayer. Union bastardry will bloat the cost. Australia should import from proven suppliers
PRIME Minister Tony Abbott has confirmed construction of new offshore patrol vessels will start in 2018 and new frigates in 2020 under a $40 billion plan for continuous shipbuilding in Australia.
A RESTRUCTURED surface naval shipbuilding industry could be competitive and provide the best possible ships at the best possible price, he said.
From 2020 onwards there will be build-up to about 2500 workers employed continuously in surface naval shipbuilding and most of them will be in Adelaide, he told reporters in the South Australian capital on Tuesday.
"The frigates are coming as the first prize and one way or another the subs will be coming as a further prize," Mr Abbott had told ABC radio earlier, ahead of the formal announcement.
"You shouldn't assume that the subs won't happen here."
The submarine contract is subject to a competitive evaluation process being contested by Japanese, French and German shipbuilders who will be required to outline local involvement in any tenders.
The prime minister conceded Australian shipbuilders would not be able to avoid entirely the so-called "valley of death" - the gap between the end of existing contracts and the start of new ones - with jobs in the sector likely to halve from 2000 to 1000 over the next few years.
But it should rebuild to about 2500 ongoing positions by 2020.
"This is the best possible outcome for service shipbuilding in Australia," Mr Abbott said.
Independent SA senator Nick Xenophon conceded it was better to have the warships built in his state than not, but he was still critical of the announcement.
"You need critical mass in the industry and that would also need to involve building the submarines as promised," he told ABC radio.
Opposition Leader Bill Shorten said there was no question both the warships and the submarines should be built in Australia.
"Mr Abbott views these multi-billion dollar, multi-thousand job contracts as political prizes aimed at just saving his own job," he told reporters outside Victorian-based shipbuilder BAE Systems on Tuesday.
Victorian Industry Minister Lily D'Ambrosio said the 2018 and 2020 shipbuilding orders were too late to save jobs in Melbourne.
She said a suggestion from the prime minister that Williamstown could host a subordinate shipyard wouldn't help when work dried up at BAE Systems in 2016.
"Where is the comfort in that?" she said.
SOURCE
How government red tape is causing a major Queensland industry to lose $1bn a year
QUEENSLAND'S struggling LNG industry is losing $1 billion a year because of government red tape, according to Deloitte Consulting director Geoffrey Cann.
He estimates the bill nationally could be as much as $4 billion a year as the states and the Federal Government lay down more and more conditions and reporting demands stemming from employee inductions to environmental issues.
The three LNG projects also had hundreds of conditions imposed on their approval, some going into minute operating detail and the industry claimed the excessive red tape posed a real threat to ongoing investment, growth and prosperity.
The huge cost comes as the three LNG projects on Curtis Island, near Gladstone, have fallen from promising big returns to shareholders to a point where they are now nearing break-even.
Governments also promised a big payday for taxpayers but that too has withered with royalties this financial year expected to be only $129 million, compared with last year's forecast of $561 million.
"The regulatory burden in Queensland is a specific concern,'' Mr Cann said. "Excessive levels of overlapping rules, burdensome reporting and high compliance costs are all a drain on the economics of the industry,'' he said. "Costs need to move by 40 per cent or more to provide some margin to the projects,'' Mr Cann said.
The issue has handed the State Government a headache but it recently set up a gas action plan to resolve problems within the industry.
Among the big hits for the industry was the cost of lodging financial assurances to completely rehabilitate the project in case the companies behind it collapsed.
SOURCE
Another troublesome Muslim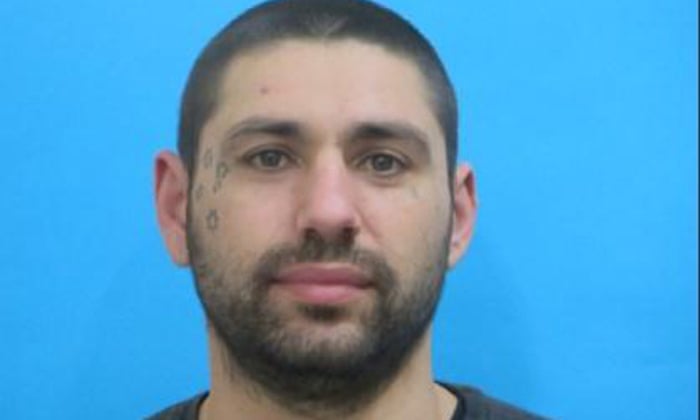 He had "a traditional Muslim wedding". Probably a Turk
Murat Shomshe, the man who became a fugitive after being granted bail to attend his own wedding, has been arrested.
A Victoria police spokeswoman said that Taskforce Fugitive detectives arrested Shomshe at around 10am on Tuesday in the Melbourne suburb of Campbellfield.
"Investigators would like to thank the public and the media for their assistance," she added.
Shomshe, 33, has links to motorcycle gangs and police warned he could have had access to firearms. He was granted bail after telling a county court judge he feared losing a $6,000 deposit on his wedding venue if he changed the date of the ceremony.
Shomshe was meant to surrender to the court last Monday in order to return to custody but instead fled while his bride, Belinda Dulevski, was in the shower.
The fugitive was last seen by police at his home at 6am on 27 July, hours before his planned court appearance.
Initially, police were unable to name the man for fear it would prejudice his upcoming court case. But on Monday morning Victoria police announced the fugitive taskforce had taken over the investigation and released the man's name as Murat Shomshe.
According to the Herald Sun, Shomshe and Duleski had 470 guests at their wedding. Duleski is set to lose $10,000 she put up as bail money after Shomshe made his temporary escape.
SOURCE